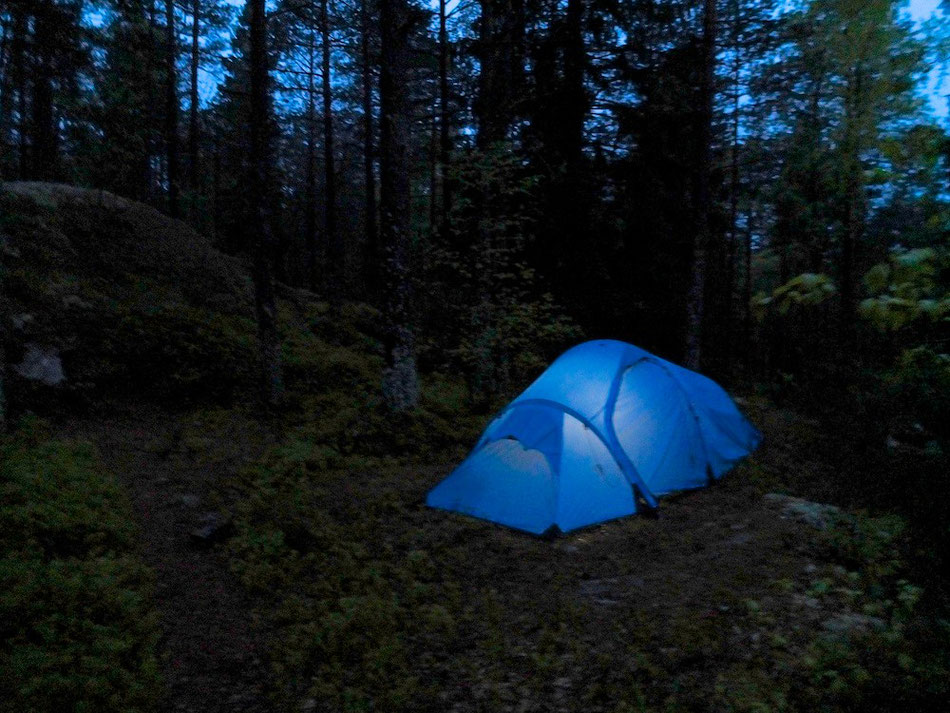 Kynnefjäll is a wildmark - one of the more southern wild area of Sweden. Kynnefjäll is partially preserved within a Nature protected area. The woodland is dense and the paths are uneasy, especially in the wet ground. But the quietness is wonderful!

Going outdoor is also a question of appropriate equipment. Not fancy gear but an equipment that will allow You to enjoy the nature, the path, the silence of the forest and the joy of the rain.
Having received - after a long time of hesitation - a brand new Kajka backpack and a Abisko Lightweight tent from Fjallraven, I decided to test it on the Bohusleden, on a short part of the trail on the Kynnefjäll.
The Bohusleden is well marked on trees even if the path doesn't really match the one on the map. It doesn't make any problem as long as You don't want to use any other paths in order to make tours in the park.
On Kynnefjäll, there are several shelters (vindskydd)and also a free cabin! The shelters are very convenient - even with a tent - to cook, to rest or … to dry your wet boots (who talked about having an appropriate equipment?)
The Kajka is a good carrying equipment with a lot of details that makes it a very good backpack. Very easy to pack, solid, with a compression system that works perfectly and more than anything: very comfortable to carry. 
The tent is comfortable, light and it's a dream to listen to the night birds echoes on the lake or the heavy rain and the strong wind while perfectly safe in the tent.
Some information on the trail is available at the Youth Hostel on Kynnefjäll.